2005 MSBOA District XII
Solo & Ensemble Festival Results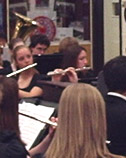 Pioneer Band students received 104 first division and 39 second division ratings in solo competition, as well as 117 first division and 27 second division ratings in ensemble competition on January 29, 2005 at Livonia Franklin High School. Students throughout the state performed in this state qualifying event. Congratulations!
The following Pioneer High School Band students participated in the Michigan School Band and Orchestra Association (MSBOA) District Solo and Ensemble Festival on January 29. Students prepared a solo and/or an ensemble and performed for an MSBOA Adjudicator. Their performance was evaluated and a rating between "I" (Excellent) and "V" was assigned. The symbol (2) after a students name indicates that they had two events receiving that rating in the same category.
104 Pioneer High School Band students receiving a "I" (Excellent) rating for their performance of a solo: Casey Ahlbrandt-Rains, Mark Antonuk, Mary Armbruster, Anne Azrak, Louis Barry, Aleise Batkins, Emily Bednar, Tova Berg, Jonathan Beshay, Justin Birchler, Carolyn Blessing, Mary Bruhnsen, Charles Burney, Amanda Burnside, Dan Carrera, Adam Carriere, Emily Crary (2), Matt D'Addona, Evelyn Daugherty, Seth Dawson, Marina Epstein-Katz, Elaine Ezekiel, Adam Fink, Rob Franke, Joshua Goldman, Rachel Goodman, Sam Goodsitt, Michael Gottliebsen, Jared Greenberg, Theresa Hansen, Emma Herzog, Alex Houser, Zach Hyde, Abby Johnson, Georgi Kabanov, Liz Kelly-Sell, Hayne Kim, Liz Kindschy, Andrew Koeppe, Ian Krass, Liz Kuwada, Julien LaFortune, Amber LaGore, Won Woo Lee (2) (piano), YunJae Lee, Ami Li, Jingxiao (David) Liu, Maureen Maier, Preeta Maitra, Laura Markey (2), Craig Marlatt, Emily Martin, Lucy Martin, Katie Martin-Browne, Kaoru Matsushita, David Michaels, Caitlin Miekstyn, Deedee Min, Ted Moore, Ashley Mulay, Susan Murphy, Joseph (Pyung) Nahm, Mikhail Ognenovski (2) Selin Oner, Hyun Soo Park, Moon Soo Park, Shelby Peterson, Mark Phillips, Samuel Rast, Caleb Reed, Zach Renner, Joshua Rontal, Scott Siler, Allison Simpson, Kenzie Slottow, Christina Smith, Nicolas Snyder, Lauren Stout, Sam Swanson, Kaitlyn Szczepanowski, Charlie Szczygiel, Marshall Thomas, Jacob Trithart, Eddie VanRiper (2), Scott Wagner, Lauren Walens, Gretchen Wallner, Kyle Wallner, Dillon Walls, Rachel Walsh, Alan Wang, Yishi Wang, Pearce Washabaugh, Eric Wedemeyer, Charlie Whitmer, Melissa Woldt, Yiqing (Shirley) Xu, Cara Yonovitz, Myung Yoo
39 Pioneer High School Band students receiving a "II" (Good) rating for their performance of a solo were: Kerry Aschenbach, Zach Barnes, Michael Beck, Katie Brieloff, Daniel Burgener, Owen Burton, Ben Campbell, Thomas Deren (2), Riley Ellis (2), Allen Eyler, Tricia Garay, Alex Gidley, Katherine Henrichs, Sean Johgart, Katie Johnson, Amit Khankari, Qingchen Liang, Peter Lundholm, Paige Madison, Emily Maier, Margaret McNair, Nicole Mitchell, Alyssa Novak, Kate Rogow, Daniel Saulles, Matt Schaeberle, Mira Shifrin, Anthony Smith, Maya Spivak, Leigh Sugar, Noah Wagner, Cindy Wang, Charlie Whitmer, Adina Williams, Yiqing (Shirley) Xu, Christopher Yunck, Anthony Zick
117 Pioneer High School Band students receiving a "I" (Excellent) rating for their performance of an ensemble were: Emily Arbour, Anne Azrak, Aleise Batkins, Jesse Broman, Libby Brooks, Mary Bruhnsen, Charles Burney, Amanda Burnside, Dan Carrera, Adam Carriere (2), Roxana Cazacu, Tom Coveney, Evie Coves-Datson, Chris Culbertson, Matt D'Addona (2), Zach DeGeorge, Max Deschamps (2), Charlie Dill, Jill Dixon, Franziska Duerbeck, Emily Durfee, Marina Epstein-Katz, Adam Fink, Sarah Fowlkes, Rob Franke (2), Tricia Garay, Josh Goldman, Sam Goodsitt, Jenny Gordon, Wenting Guo (2), Theresa Hansen, Billy Harrington, Katherine Henrichs (2), Alex Heritier, Emma Herzog, Alex Houser, Zach Hyde (2), Katelyn Jahnke, Abby Johnson, Kate Johnson, Katie Johnson, Georgi Kabanov, Hayne Kim, Liz Kindschy, Andrew Koeppe (2), Ian Krass, Kelly Kundrat, Julien LaFortune, Liliana LaValle, Anna Leavitt, Helen Li, Laura Markey, Craig Marlatt, Emily Martin (2), Lucy Martin, Stacey Martin (2), Katie Martin-Browne, Kaoru Matsushita (2), Regan McCullough, Caitlin Miekstyn, Deedee Min (2), Ted Moore (2), Joseph (Pyung) Nahm, Steve Nair, Hyun Soo Park, Ken Park, Oliver Parsonage, Glenn Persello-Seefeld, Emma Reid, Maria Riolo (2), Daniel Saulles, Allison Simpson, Kenzie Slottow (2), Nate Slottow, Anthony Smith, Christina Smith, Nicolas Snyder, Maya Spivak, Lauren Stout, Leigh Sugar, Kara Sullivan, Sam Swanson, Charlie Szczygiel, Jonathan Taylor, Marshall Thomas, Mikey Thomas, Jacob Trithart, Eddie VanRiper, Patrick Wakefield, Lauren Walens, Gretchen Wallner, Kyle Wallner, Alan Wang, Cindy Wang, Yishi Wang, Ysabel White, Charlie Whitmer, Melissa Woldt (2), Maria Xiang, Cara Yonovitz, Brian Young
27 Pioneer High School Band students receiving a "II" (Good) rating for their performance of an ensemble were: Emily Arbour, Mary Armbruster, Zach Barnes, David Bigham, Katie Brieloff, Tony Bryk, Dan Carrera, Joe Carrera, Werner Dahm, Jessica Field, Amy Fingerle, Erin Fitzsimmons, David Glanville, Jonathan Henrichs, Amit Khankari, Adam Lanseur, Emily Larson, Emily Maier, Preeta Maitra, Marina Mayne, Selin Oner, Moon Soo Park, Nick Ten Brink, Mike Thompson, Dillon Walls, Chris Xiao, Yiqing (Shirley) Xu