2008 MSBOA District XII Solo & Ensemble Festival Results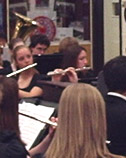 Pioneer Band students received 116 first division and 40 second division ratings in SOLO competition, as well as 135 first division and 16 second division ratings in ENSEMBLE competition on February 9, 2008 at Livonia Franklin High School. Students throughout the state performed in this state qualifying event.
The following Pioneer High School Band students participated in the Michigan School Band and Orchestra Association (MSBOA) District Solo and Ensemble Festival on February 9. Students prepared a solo and/or an ensemble and performed for an MSBOA Certified Adjudicator. Their performance was evaluated and a rating between "I" (Excellent) and "V" was assigned. The symbol (2) after a students name indicates that they had two events receiving that rating in the same category.
Pioneer High School Band students receiving a "I" (Excellent) rating for their performance of a SOLO were: Emily Arsen, Anand Bahl, Sean Beck, Rachel Bielajew, Jonathan Bower, Stephen Brieloff, Amanda Burnside, Ben Campbell, Ella Campbell, James Campbell, Chris Culbertson, Sam Deschamps, Ilana Diamond, Martin Elliott, Elizabeth Etter, Jessica Field, Patrick Fleming, Corey Garff (2), Eleanor Giles, Alec Glanville, Adam Graves, Chris Haddlesey, Lindsay Hall, Saunders Hayes, Rebecca Holmes, Skye Hookham, Lauren Houser (2), Scott Hulbert (2), Max Hully, Lianna Iacob, Alex Jaeckel, Andy Johnson, Jeff Johnson, Hyungjae Jung, Nathan Karr, Chad Kelsey, Ryan King, Joe Klaver, Ian Krass, Gaurav Kulkarni, Tanay Kulkarni, Julien Lafortune, Amin Lanseur, Dylan Larkins, Leah Latterner (2), Tasha Le, Meekyoung Lee, YunJae Lee, Sam Lichtman-Mikol, Julia Markey, Haley Marlette, Lucy Martin, Aidan Mase-Kemnitz, Karen Matsuo, Megumi Matsushita, Hannah Maxbauer, Isabel McKay, Miriam Michaels, Cailey Miller, Mackenzie Miller, Zachary Miller, Alex Mitropoulos-Rundus, Susan Murphy, Kayla Oh, Neil Parikh, Will Penner-Hahn, Shelby Peterson, Samuel Rast, Linda Relson, Natalie Roll, Niko Rombes, Sarah Rontal, Daniel Saulles, Matt Schaeberle, David Shao, David Shapiro, Arthur Shih, Jeff Shipan, Scott Siler, Nate Slottow, Andrew Smith, Josh Stein, Leigh Sugar, Michael Sullivant, Jacob Swanson, Ed Szczygiel, Rachel Teeter, Natalie Ten Brink, Marshall Thomas, Victoria Tillman, Thea Torek, Tim VanRiper, Noah Wagner, Gretchen Wallner, Rachel Walsh, Alan Wang, Cindy Wang, Xiao Wang, Yishi Wang, Devin Webster, James White, Danica Whitfield, Jeremy Whiting, Dana Wilson, Hope Wilson, Matt Winick, Eric Yamakado, Jay Yamakado, Ryan Yunck, Anthony Zick, Eric Zimmer
Pioneer High School Band students receiving a "II" (Good) rating for their performance of a SOLO were: Leo Bayless-Hall, Caitlin Berrigan, Jeff Bertram, Joel Burgener (2), Margaret Burns, Katie Centurione, Andrew Copp, Katie Copp, Elizabeth Cvercko, Jesse Fernandez, Adam Fink, Charles Hatch, Leila Hofer, Hyungjae Jung, Caroline Laman (2), Seung Wun Lee, Rebecca Lemke, Matt Lerner, Veronica Long, David Michaels, Daniel Myers, Alyssa Novak, Veronika Olszewski, Julia Pakela, Stefan Petrmichl, Duncan Polot, Rahul Puttagunta, Zach Renner, Evan Reynolds, Vijay Sachdev, Dan Siler, Rachel Simon, Josh Stein, Kathryn Szczygiel, Emily Topham, Manisha Verma, Malaika Whitney, Jennifer Woolley
Pioneer High School Band students receiving a "I" (Excellent) rating for their performance of an ENSEMBLE were: Casey Ahlbrandt-Rains, Anand Bahl, Emily Barnes, Alex Baum, Jonathan Bower (2), Tony Bryk, Amanda Burnside, Elizabeth Bush, Ben Campbell (2), Ella Campbell, James Campbell, Caroline Chen, Chris Culbertson, Elizabeth Cvercko, Werner Dahm, Helen DeMarsh, Sam Deschamps, Meera Desai, Patton Doyle, Martin Elliott, Elaine Ezekiel, Jessica Field, Tory Fingerle, Adam Fink, Jim Fitzpatrick, Erin Fitzsimmons, Christopher Fleming, Ella Giles (2), Josh Goldman, Adam Graves, Christopher Haddlesey, Lindsay Hall (2), Andrew Hess, Nicholas Hilliard, Michael Ho, Leila Hofer, Rebecca Holmes, Skye Hookham (2), Andy Johnson (2), Jeff Johnson, Spencer Johnson, Nathan Karr, Chad Kelsey, Joe Klaver, Amin Lanseur (2), Dylan Larkins (2), Emily Larson, Leah Latterner, Anna Leavitt, Meekyoung Lee (2), David Liu, Emily Maier, Aidan Mase-Kemnitz, Karen Matsuo, Megumi Matsushita (2), Kyle Mattimore, Anna Mayne, Marina Mayne, Kate McKarns, David Michaels, Miriam Michaels, Mackenzie Miller, Sang Moon, Margaret Morgan (2), Jordan Morningstar, Warren Morningstar, Mackenzie Miller, Alyssa Natoci, Amanda Osinski, Hyun Soo (Sandra) Park, Ryan Pendleton, Shelby Peterson, Niya Phelan, Nate Polich, Duncan Polot (2), Samu Rast, Tim Rittinger, Cory Roberts, Kate Rogow, Daniel Saulles (2), David Shapiro, Arthur Shih, Scott Siler (2), Nate Slottow (2), Andrew Smith, Christina Smith, Danny Soto, Scott Sprau, Leigh Sugar, Jonathan Taylor (2), Rachel Teeter, Natalie Ten Brink, Michael Thompson, Emily Topham, Manisha Verma, Noah Wagner (2), Gretchen Wallner, Peter Wang, Devin Webster, Danica Whitfield, Dana Wilson (3), Hope Wilson (3), Jay Yamakado, Angela Yang, Ryan Yunck, Alan Wang (2), Cindy Wang, Xiao Wang, Yishi Wang (2), Yiqing (Shirley) Xu, Eric Yamakado, Ryan Yunck
Pioneer High School Band students receiving a "II" (Good) rating for their performance of an ENSEMBLE were: Kate Centurione, Katie Copp, Jonathan Evans, Sachi Gianchandani, Christopher Hass, Caroline Laman, Emily Larson, Zach Marentay, Marina Mayne, Nate Medd, Cailey Miller, Jennifer Nao, Veronika Olszewski, Natalie Roll, Rachel Teeter, Peter Wang