2011 MSBOA State Solo & Ensemble Festival Results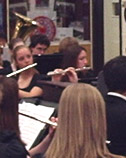 Pioneer Band students received 55 first division and 10 second division ratings in SOLO performance, as well as 64 first division and 13 second division ratings in ENSEMBLE performance at the STATE Solo and Ensemble Festivals held on March 26.
The following Pioneer High School Band students participated in the Michigan School Band and Orchestra Association (MSBOA) STATE Solo and Ensemble Festival on March 26. Students prepared a solo and/or an ensemble and performed for an MSBOA Certified Adjudicator. Their performance was evaluated and a rating between "I" (Excellent) and "V" was assigned.
Sophomores through seniors who performed solos were also eligible to participate in Proficiency Examinations, requiring scales and sightreading, as well as performance on their solo. The symbol (2) after a students name indicates that they had two events receiving that rating in the same category.
Pioneer High School Band students receiving a "I" (Excellent) rating for their performance of a SOLO were: Shreya Bahl, Halley Bass, Aaron Baum, Joella Bennett, James Boyd, James Campbell, Takeo Cauley, Katie Centurione, Iris Chen, Jae Hyun Choe, D'Arcy Cook, Katie Copp, Rennie Cotner, Jonathan Evans, John Fan, Kevin Flannagan, Charlie Geronimus, Celisa Gutierrez, Christopher Haddlesey, Christopher Hass (2), Andrew Hess, Leila Hofer, Skye Huerta, Aina Kelsaw-Fletcher, Anna Latterner, Olivia Lee, Siyan (Daniel) Li, Emily Liu, Wei Luo, Anna Mayne, Jack McKarns, Sowdeepya Nadimpalli, Daniel Olson, Henry Pakela, Julia Pakela, Elliot Polot, Norah Rast, Carly Renner, Michael Shapiro, Rebecca Shipan, Ken Simon (2), Antonia Smith, Jacob Swanson, Nick Terrell, Kevin Tian (2), Charles Wang, William Wang, Hope Wilson, Eric Yamakado, Tina Yu, Kevin Zhang, Megan Zheng
Pioneer High School Band students receiving a "II" (Good) rating for their performance of a SOLO were: Galen Burrell, Amelia Diehl, Peter Doyle, Nina Freter, Tyler Leach, Yuming Liu, Veronika Olszewski, David Shao, Austin Stout, Thea Yagerlener
Pioneer High School Band students receiving a "I" (Excellent) rating for their performance of an ENSEMBLE were: Halley Bass, Alex Baum, Riley Bean, Joella Bennett (2), Ben Bielajew, James Campbell (2), Katie Centurione, Katie Copp, Rennie Cotner, Alayna Coverly (2), Jonathan Evans (2), John Fan, Kevin Flannagan (2), Alex Ginsberg, Megan Glanville, Christopher Haddlesey, Christopher Hass, Andrew Hess, Leila Hofer, Conor Howe, Kevin Jiang, Konstantin Kecman, Simmon Kim, Christopher Landau, Anna Latterner, Harry Lee, Wei Luo, Hannah Lynn, Zach Marentay (2), Andrea Martin, Anna Mayne, Jordan McKay, Veronika Olszewski, Henry Pakela, Julia Pakela, Sara Park, Elliot Polot, Norah Rast, Linda Relson, Tim Rittinger, Natalie Roll, Michael Saunders, Kaylee Schonsheck, Michael Shapiro, Ken Simon, Gina Son, Mario Sulaksana, Jacob Swanson, Nick Terrell, William Wang, Hope Wilson (2), Ted Xiao, Eric Yamakado, Angela Yang, Tina Yu, Kevin Zhang, Alan Zhou
Pioneer High School Band students receiving a "II" (Good) rating for their performance of an ENSEMBLE were: Meera Desai, Jae Jung, Hyeyoung Kim, Yeonghyun Koh, Jesse Lemons, Anna Mayne, Manasseh McClair, Terralyn Parks, Josh Sherick, Dana Shin (2), Stephanie Terrell, Maria Ten Brink