2012 MSBOA District XII Solo & Ensemble Festival Results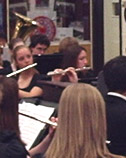 Pioneer Band students received 102 first division and 12 second division ratings in SOLO competition, as well as 94 first division and 37 second division ratings in ENSEMBLE competition on January 14 at Livonia Franklin High School. Students throughout the state performed in this state qualifying event.
The following Pioneer High School Band students participated in the Michigan School Band and Orchestra Association (MSBOA) District Solo and Ensemble Festival on January 15. Students prepared a solo and/or an ensemble and performed for an MSBOA Certified Adjudicator. Their performance was evaluated and a rating between "I" (Excellent) and "V" was assigned. The symbol (2) after a students name indicates that they had two events receiving that rating in the same category.
Pioneer High School Band students receiving a "I" (Excellent) rating for their performance of a SOLO were: Maddie Allen, Shreya Bahl, Halley Bass, Ben Bielajew, Kevin Blaesing, Will Bogen, James Boyd, Michael Buiteweg, Galen Burrell, Christian Castle, Iris Chen, Han Qiu Cheng, Claire Christensen, D'Arcy Cook, Rennie Cotner, Alayna Coverly, Marianne Cowherd, Amelia Diehl, Peter Doyle, Eric Dutton, John Fan, Kevin Flannagan, Nina Freter, Alexander Ginsberg, Celisa Gutierrez, Anna Hayman, Clare Higgins, Andrew Hocott, Stein Housner, Conor Howe, Betty Hu, Skye Huerta, Aleck Jiang, Kevin Jiang, Will Jibson, Taylor Johnson (2), Kayoon Jung, Tela Kabisch, Jared Kaufman, Aina Kelsaw-Fletcher, Hakkyun (Alex) Kim, Sara King, Trevor King, Anna Latterner, Tyler Leach, Harry Lee, Andrew Lemerand, Nicholas Lemerand, Siyan (Daniel) Li, Emily Liu, Nicholas Liu, Yuming Liu, Sara Long, Wei Luo, Hannah Lynn, Andrea Martin, Natalie Martin, Abbey Maxbauer, Alexander Maynard, Jack McKarns, Ian McKenny, Sowdeepya Nadimpalli, Daniel Olson, Henry Pakela, Oksana Palczynski, Sara Park, Abraham Paternoster, Bo Peng, Elliot Polot, Norah Rast, Elijah Reische, Lillie Ross, Griffin Roy, Ellen Sauer, Zachary Sedgwick, Michael Shapiro, Becca Shipan, Ken Simon (2), Nicholas Simon, Antonia Smith, Jakob Smith, Gina Son, Austin Stout, Alysha Szewczul, Maria Ten Brink, Nick Terrell, Stephanie Terrell, Kevin Tian (3), Nick Verhun, Ben Vinnik, Charles Wang, William Wang, Enze Xing, Thea Yagerlener, Brinda Yarlagadda, Tina Yu, Kevin Zhang, Alan Zhou
Pioneer High School Band students receiving a "II" (Good) rating for their performance of a SOLO were: Sam Blackburn, Joseph Buiteweg, Claire Davenport, Danny Fonte, Hyeyoung Kim, Julia Mouat, Paul Paternoster, Fiona Powell, Ryan Reynolds, Ben Schreiber, Kathy Sun, Nathan Willette
Pioneer High School Band students receiving a "I" (Excellent) rating for their performance of an ENSEMBLE were: Janette Ahn, Halley Bass (2), Megan Battersby, Aaron Baum, Ben Bielajew, Will Bogen, Cameron Boyd, James Boyd, Galen Burrell, Miyako Cauley, Takeo Cauley, Elizabeth Choi, Hangil Choi (2), Hyewon Choi, Claire Christensen, D'Arcy Cook, Rennie Cotner, Marianne Cowherd, Isaiah Davis, Seetha Davis, Peter Doyle, Ruby Emberling, Jack Fan, John Fan, Monica Fink, Kevin Flannagan (2), Charlie Geronimus, Alex Ginsberg, Clare Higgins, Conor Howe, Betty Hu (2), Esther Im, Will Jibson, Kiley Judge, Kayoon Jung, Jared Kaufman, Catherine Kim, Sara King, Trevor King, Yeong Hyeon Koh, Reina Larkin, Harry Lee (2), Siyan (Daniel) Li, Ben Lindstrom, Wei Luo, Andrea Martin, Abbey Maxbauer, Jack McKarns, Jordan McKay, Oleg Mihans, Sowdeepya Nadimapalli, Henry Pakela (2), Oksana Palczynski, Sara Park, Abraham Paternoster, Bo Peng, Gabe Puno, Norah Rast, Hannah Rhodenhiser, Griffin Roy, Ellen Sauer, Michael Saunders, Kaylee Schonsheck, Ben Schreiber, Dana Shin, Becca Shipan, Amaris Sim, Hannah Sim, Ken Simon, Antonia Smith, Gina Son, Kathy Sun (2), Maria Ten Brink, Nick Terrell (2), Stephanie Terrell, William Wang (2), Ted Xiao, Enze Xing, Thea Yagerlener (2), Tina Yu, Kevin Zhang, Megan Zheng, Alan Zhou, Kayla Zynda
Pioneer High School Band students receiving a "II" (Good) rating for their performance of an ENSEMBLE were: Shreya Bahl, Sarah Begley, Will Bogen, Takeo Cauley, William Chen, Jae Pil Choi, Marianne Cowherd, Samantha Freshley, Meaghan Glanville, Anna Hayman, Guanlun He, Maddy Hiller, Grace Iverson, Kevin Jiang (2), Will Jibson, Deondre Jones, Aina Kelsaw-Fletcher, Gregory Kim, Danielle Lehavy, Ruohao Li, Hannah Lim, Ben Lindstrom, (David) Jie Lu, Stone Mathers, Kara Monchamp, Oksana Palczynski, Niket Parikh, Abraham Paternoster, Shay Pinhey, Gabe Puno, Hallie Rogers, Michael Shapiro, Nicholas Simon, Sarah Starman, Ryan Teeter, Oliver Zhou