Robert Albritton
Director of Bands, 1982–2002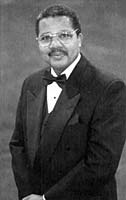 Robert Albritton was Pioneer High School's longest serving Director of Bands. He also served as Chairman of the Pioneer Music Department from 19?? to 2002. Under his guidance, the bands participated annually in district festivals and consistently received the highest ratings.
Under his direction, the Symphony Band was chosen to perform at the 39th Annual International Midwest Band and Orchestra Clinic in Chicago (1985), as well as the 42nd Annual (1987) and 52nd Annual (1997) Midwestern Conference in School Vocal and Instrumental Music in Ann Arbor (1987). Between 1988 and 2002 the Concert and Symphony Bands received top honors at music festivals in cities throughout the Eastern part of the United States and Canada including Chicago, Boston, Toronto, and New York. In the spring of 2001, Robert Albritton directed the Symphony Band in several well-received concerts in China.
A native of Atlanta, Georgia, Albritton graduated from Tennessee State University in 1965 with a Bachelor of Music degree in Music Education. After serving as band director in Lebanon, Tennessee and Gary, Indiana, he came to Ann Arbor for graduate studies, playing tuba in the Symphony Band under Dr. William Revelli. He received a Masters degrees from The University of Michigan in 1971 and completed one year of doctoral studies. Albritton took a position in the Ann Arbor Public Schools in 1972, teaching first at the elementary school level, followed by directing bands at the junior high level. His proven style and teaching methods led him to accept the position of Director of Bands at Pioneer in 1982.
---
Since 1914, the bands at Ann Arbor High School have been directed by an outstanding succession of talented and visionary musicians. Out of each director's strengths and stylistic approaches to band music instruction came the foundations that made for a consistent record of excellence in the program. Today's reputation for superior performance is a direct result of the legacy formed by our past directors.
Past Directors
Myles Mazur
Dr. Emil Holz
Charles Yates
E. Rollin Silfies
The First Directors