William Champion
Director of Bands, 1928–1941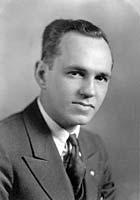 Falcone's successor at Ann Arbor High, William Champion, was the first of many long-serving directors, all of whom built the band program's high standards, traditions, and strong esprit de corps. Champion expanded the band program, oversaw the admittance of the first female musicians, and gave the marching band a snappy military style. He also worked to make the band a strong concert ensemble, adding instruments not used in marching like the oboe, the bassoon, and the alto and bass clarinet. Champion also started band programs in the elementary and junior high schools.
Under Champion the students presented the first "Band Frolic," which included several novelty acts along with the standard concert music. After a few years, this gave way to a more formal performance, which continues to this day in the form of the high schools' Winter Band Concert. Champion had also taken over the direction of the orchestra in 1930, but whether his style or other circumstances were to blame, orchestra membership dwindled until the band was twice its size. He must have been a capable orchestral conductor, however, as he also directed the Ann Arbor Symphony Orchestra from 1933 to 1941.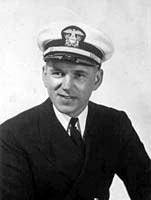 The tradition of marching from the high school to the football games was established during Champion's tenure. Local radio personality Ted Heusel, who played trombone in the band in the 1930s, recalls that the musicians would march down Huron and Main streets to Wines Field (now Elbel Field on Hill St. where the Michigan Marching Band practices). Heusel remembers how deliciously distracting the smell wafting from Quality Bakery was as the band passed by its building on Main near William (now Palio restaurant). Champion also instituted the "AA" formation on the field, which continued until 1969, when the division of the school into Pioneer and Huron high schools forced a change to separate "P" and "H" formations.
Champion, an officer in the naval reserves, was called to active duty in 1941. Once again, the world at war seems to have an impact on the numbers of students involved in band: from a high of fifty-eight under Champion, membership dropped to thirty-seven under new director E. Rollin Silfies.
---
Since 1914, the bands at Ann Arbor High School have been directed by an outstanding succession of talented and visionary musicians. Out of each director's strengths and stylistic approaches to band music instruction came the foundations that made for a consistent record of excellence in the program. Today's reputation for superior performance is a direct result of the legacy formed by our past directors.
Past Directors
Myles Mazur
Dr. Emil Holz
Charles Yates
E. Rollin Silfies
The First Directors