Joseph Maddy
Director of Bands, 1924–1927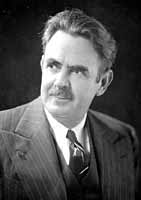 Joseph Maddy was called to Ann Arbor in the fall of 1924 by Earl Moore, who had just become head of the School of Music. With thrifty ingenuity, Moore arranged for Maddy to work half-time as head of music education at the U-M and half-time as music supervisor in the Ann Arbor Public Schools. Maddy's enthusiasm and vision for advancing music education would find fertile ground in Ann Arbor.
In his three years at Ann Arbor High, Maddy re-formed the band and orchestra. An innovative instructor, he established the early traditions of musical excellence at the school. Maddy was also a good promoter, persuading the administration to provide funds for instruments and working with the local Rotary Club to purchase new uniforms. Because of confusion with the school administration over course definitions, academic credits, and scheduling, however, the band and orchestra comprised the same students, who would simply play different instruments on different days.
The influence of Joe Maddy and Interlochen on the world of high school music is legendary, but not everybody appreciated his groundbreaking work. In his book Interlochen, A Home for the Arts, Dean Boal relates how Ann Arbor school superintendent Otto Haisley, hired the same year as Maddy, grew increasingly frustrated with his employee's new venture in northern Michigan. Haisley called Maddy "a crazy damn fool" for undertaking "a fool project like the camp" and fired him from the public schools. (Maddy's own version, as told to Verne Collins, was that he resigned so that he could devote more time to the camp.)
Photo courtesy of Interlochen Center for the Arts
---
Since 1914, the bands at Ann Arbor High School have been directed by an outstanding succession of talented and visionary musicians. Out of each director's strengths and stylistic approaches to band music instruction came the foundations that made for a consistent record of excellence in the program. Today's reputation for superior performance is a direct result of the legacy formed by our past directors.
Past Directors
Myles Mazur
Dr. Emil Holz
Charles Yates
E. Rollin Silfies
The First Directors