Clarence Roth
Director of Bands, 1946–1962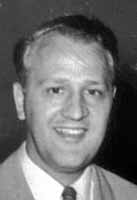 Clarence F. Roth was born on July 17, 1909, in Grand Rapids, Michigan. As a student, he played the violin and French horn, but throughout his life demonstrated the ability to play almost any instrument he picked up. Roth graduated in 1927 from Grand Rapids Union High School. One of Roth's fondest memories was meeting the legendary bandmaster John Phillip Sousa, who removed his white glove, shook Roth's hand, and said, "What can I do for you?"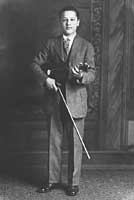 Clarence Roth received an A.B. Degree from Western Michigan University in 1931 and a Masters Degree from the University of Michigan in 1946. He married Mancelyn Barker in 1931. Roth began his teaching career as Director of Music at high schools in Greenville, Mich., Niles, Mich., and Pekin, Ill., before coming to Ann Arbor.
Roth was hired in 1946 by Superintendent Otto Haisley to be Director of Instrumental Music at Ann Arbor High School and began with 28 students in the band. He presented the first "Bands in Review" in 1947 to raise money for new uniforms, and made "Bands in Review" a permanent institution in 1950. Clarence Roth not only showed us how to properly raise funds for the band program, but then set the standards for uniform inspections and pride that we still follow today.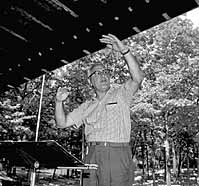 Clarence Roth approached National Music Camp founder and director (and former Ann Arbor High Band Director) Joe Maddy about bringing the Ann Arbor high school band to Interlochen in August following the 1948 summer camp season and just before school started. Despite Maddy's initial trepidation, Ann Arbor students and staff proved themselves to be superb musicians and campers.
Roth's "pioneer" Band Camp has become a cherished tradition that has been duplicated, but never equaled. The traditions of marching drills on the tennis courts, rehearsals in the Bowl, concerts in Kresge, and socializing in Braeside all began under Roth. AAPS staff at Band Camp have now largely been replaced by alumni counselors.

Roth took the band to their first state competition in 1950 and received 1st division ratings. He also took the band to participate in the first Band Day at Michigan Stadium in 1951. The band performed under Roth at the International Lions Club Conventions in Chicago, New York City, and Miami 1953–1956. In 1956 the Ann Arbor High School Band hosted renowned conductor Paul Lavalle.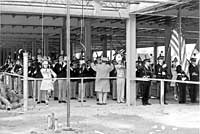 In the post-war years, as the school board began to plan for a new, larger high school, Roth helped to design the band room, practice rooms and auditorium for the new building.
He established a new home for the band program when the school moved to 601 W. Stadium in April, 1956.
Clarence Roth received a John Hay Fellowship and took a sabbatical during the 1959–1960 school year to study humanities, and guidance & counseling. Upon his return, Roth directed the band and served as a counselor at Pioneer for two years from 1960 to 1962. He stepped down as band director in 1962 to become a full-time counselor, with 93 students in the band program.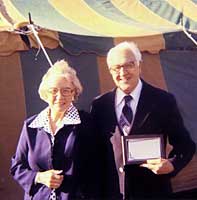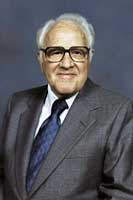 Clarence Roth retired in 1973 and traveled extensively with his wife Mancelyn. He returned in 1980 to guest conduct at Picnic Pops.
Clarence Roth passed away on April 15, 1990, at age 80.
The Pioneer Band Program has honored the memory of Clarence Roth with the Reflections of Excellence Award, recognizing Roth's significant contributions in advancing the standards of music excellence we cherish and value today and into the future. This award honors Clarence Roth's outstanding musicianship, and his leadership and dedication to his students over the years. The award was received by Clarence's son, Tom Roth, himself a Pioneer band alumnus, at the Winter Recital and Concert on February 2, 2006.
---
Since 1914, the bands at Ann Arbor High School have been directed by an outstanding succession of talented and visionary musicians. Out of each director's strengths and stylistic approaches to band music instruction came the foundations that made for a consistent record of excellence in the program. Today's reputation for superior performance is a direct result of the legacy formed by our past directors.
Past Directors
Myles Mazur
Dr. Emil Holz
Charles Yates
E. Rollin Silfies
The First Directors