Pioneer Band Association Meetings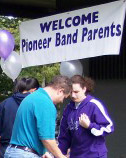 The Pioneer Band Association meets on a regular basis to discuss band program activities. Meetings are held in the Band Room (B126) at Pioneer High School, generally on the second Tuesday of the month during the school year from 7:30 to 8:30 p.m.
All band parents are encouraged to attend, and band students are welcome to attend. The directors are always in attendance to give regular reports, listen to and discuss all agenda items.
The Annual Meeting of the Pioneer Band Association takes place in April of each year.
Scheduled Meetings: 2015–16
January 14, 2016 (NOTE *This is a THURSDAY)
February 9, 2016
March 8, 2016
April 12, 2016 (Annual Meeting)
June 7, 2016
Scheduled Meetings: 2014–15
October 14, 2014
November 11, 2014
February 10, 2015
June 2, 2015
Scheduled Meetings: 2013–14
April 22, 2014 (Annual Meeting, pending)
PBA Meetings are governed by the bylaws of the Pioneer Band Association.
Recent Annual Meeting minutes
Other recent meeting minutes