Victor Bordo
Director of Bands, 1963–1976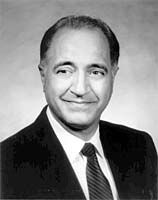 Victor Bordo brought national recognition to the program during his thirteen years as Director of Bands. The Symphony Band made its first appearance at the prestigious Mid-West Band and Orchestra Clinic in Chicago in December, 1969, as well as a repeat appearance under Victor Bordo in 1973. In 1971, the Symphony Band was featured at the Annual Midwestern Music Conference in Ann Arbor.
Victor Bordo institutionalized many of the techniques and practices still followed by the band program today. The fundamentals of the marching band protocols were recorded and taught in a consistent manner, and a strong and consistent concert season was developed. He also expanded the ways in which music was taught in the classroom, adding a "Music History Through Band Literature" component to the weekly rehearsal time. He also taught several Music Theory courses.
Victor Bordo was born and raised in Detroit, Michigan, playing clarinet at Cass Tech High School under renowned director Harry Begian. Following his passion for music, he received his Bachelors and Master's degrees in Music Education at Wayne State University, and began working on a doctorate degree at the University of Michigan. After teaching at Cass Tech High School and serving in the military, Bordo became Band Director at Troy High School in 1957. In 1963, Bordo was hired away by Ann Arbor Public Schools Music Coordinator Roger Jacobi (a position Bordo held himself from 1976 to 1989) to direct the bands at Ann Arbor High School.
The Pioneer Band Program honored Victor Bordo with the first Reflections of Excellence Award, recognizing Bordo's significant contributions in advancing the standards of music excellence we cherish and value today and into the future. This award honors Victor Bordo's outstanding musicianship, and his leadership and dedication to his students over the years. The award was received in person by Victor Bordo at the Winter Recital and Concert on February 3, 2005.
---
Since 1914, the bands at Ann Arbor High School have been directed by an outstanding succession of talented and visionary musicians. Out of each director's strengths and stylistic approaches to band music instruction came the foundations that made for a consistent record of excellence in the program. Today's reputation for superior performance is a direct result of the legacy formed by our past directors.
Past Directors
Myles Mazur
Dr. Emil Holz
Charles Yates
E. Rollin Silfies
The First Directors