Nicholas Falcone
Director of Bands, 1927–1928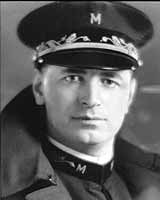 Nicholas Falcone was Director of Bands at Ann Arbor High School for just one year, 1927–1928. This coincided with Falcone's first year as Director of Bands at The University of Michigan. In fact, despite the close and long history of the university's influence and interaction with Ann Arbor High, Falcone was the only director to lead at both institutions.
Falcone has been described as not only a musician of the highest caliber, but a man of great courage and integrity. Born in Italy, Nicholas emigrated to the United States in 1912 to pursue a career in music. He found work in Ann Arbor as a tailor and as a clarinet player in a theater. In 1915, his brother Leonard joined him. Leonard, a trombone player, joined the movie theater band in Ypsilanti that Nicholas was conducting. The brothers soon developed sound reputations as musicians and conductors in the Ann Arbor community, with Nicholas directing the Varsity Band at the U-M prior to his appointment as Director of Bands.
Both brothers were recommended for the position of Director of Bands at Michigan State University that had opened up for the fall of 1927. Since Nicholas was more settled in Ann Arbor with a wife and a child, it was decided that Leonard, the bachelor, should take the position in East Lansing. Leonard went on to great success and fame at Michigan State, while Nicholas began his tenure as Director of Bands at the University of Michigan, and his one-year position as Director of Bands at Ann Arbor High School.
The fall of 1927 must have been a time of excitement and challenge for him, as the new Michigan Stadium opened and the band began to present more elaborate formations and drills to please the record crowds. It was under his direction in 1932 that the University of Michigan Band (not called the "Marching Band" until 1936) created the first "script Ohio," predating OSU's now famous similar formation.
At Ann Arbor High School, Falcone was following Joseph Maddy's three years as Coordinator of Music in the Ann Arbor Public Schools and his groundbreaking work in music education techniques. Falcone took the first steps in developing the high school band as a separate organization from the orchestra. Juva Higbee, who had been hired in the fall of 1927 as well, lead the orchestra and rehearsed her group three times a week, while Falcone rehearsed the band twice a week, with students in each ensemble receiving a quarter-credit. Falcone was naturally not able to significantly increase the size or quality of the high school band in his one year, but he was able to keep the momentum going for his successor, William Champion.
Nicholas' brilliant career came to a devastating end in the early 1930s when he was afflicted with a loss of hearing. He resigned as U-M's Director of Bands in 1935, opening the door for another legendary director of Italian descent, William D. Revelli. Nicholas Falcone was the third person to receive the University of Michigan Band Alumni Association Honorary Life Membership Award, following Revelli and Louis Elbel, composer of "The Victors."
The Ann Arbor High School Bands will always remember Nicholas Falcone's brief tenure as their director an important and cherished part of our foundation of excellence.
---
Since 1914, the bands at Ann Arbor High School have been directed by an outstanding succession of talented and visionary musicians. Out of each director's strengths and stylistic approaches to band music instruction came the foundations that made for a consistent record of excellence in the program. Today's reputation for superior performance is a direct result of the legacy formed by our past directors.
Past Directors
Myles Mazur
Dr. Emil Holz
Charles Yates
E. Rollin Silfies
The First Directors